Due to the rising prices of diesel and petrol, EVs are becoming very popular nowadays. When introduced, electric vehicles were considered slow and immature. But those times are long gone as the automotive world is moving towards clean and green electric energy. While some are using this green energy to create the perfect all-electric daily commuter, others are using it to make the fastest sports cars. We have created a list of some of the best electric cars we've yet seen, take a look at them below.
What are Electric Cars?
Electric cars are the vehicles that run partially or completely on electricity. Unlike traditional automobiles that run on a gasoline or diesel powered engine, best electric cars and electric trucks have an electric motor which runs on the electrical energy powered by batteries or fuel cells. Some EVs are plug-in hybrids i.e. they have both gasoline/diesel engine and electric motors. These vehicles can be easily charged by plug-in charging. On the other hand, some electric vehicles run on forgoing liquid fuels which are created exclusively for electric vehicles. Hybrid cars also have an electric motor but they're not considered EVs as they can't be charged by plugging-in.
Benefits of Electric Cars:
There are a number of benefits for owning an electric vehicle over the conventional gasoline/diesel cars. Some of them are;
Cheaper to run:
EVs have reduced running costs when compared with the petrol/diesel engine vehicles. The electricity cost for running an EV is 1/3rd when compared to the petrol/diesel cost for the same distance.
Low maintenance:
EVs are comparatively simple they have no exhaust systems, radiators, fuel injection systems, oil, and gears, etc. which are an essential part of the petrol/diesel vehicles. EVs have three main components inverter, electric motor, and an onboard charger. This simple composition of EVs leads to lesser maintenance costs.
Environment-Friendly:
Pure EVs don't have exhausts and even the plug-in hybrids have very low gas emissions as compared to normal petrol/diesel running cars. Without too much gas emissions the air pollution is reduced. The EVs which recharge by renewable energy sources like solar or wind have nearly 0 gas emission. By choosing an EV you will help in reducing pollution.
Easy Charging:
EVs are very easy to charge you never need to go to a gas station again. Without waiting in any long ques you can easily charge your EV at your home. Apart from this, the charging stations are easily available almost everywhere now.
Comparison between affordable, fastest & upcoming EVs
| | | |
| --- | --- | --- |
| Electric Cars | Category | Rating |
| Smart electric drive | Affordable EVs | 3/5 |
| Ford Focus Electric | Affordable EVs | 4.5/5 |
| Hyundai Ioniq Electric | Affordable EVs | 4/5 |
| Renault Zoe | Affordable EVs | 4/5 |
| Nissan Leaf | Affordable EVs | 4.5/5 |
| Kia Soul EV | Affordable EVs | 4.5/5 |
| Nio EP9 | Fast EVs | |
| Genovation GXE | Fast EVs | |
| Tesla Model X | Fast EVs | 4/5 |
| Tesla Model 3 | Fast EVs | 4/5 |
| Porsche Panamera S E-Hybrid | Fast EVs | 3/5 |
| Polestar 1 | Fastest EVs | In progress |
| Audi E-Tron Quattro | Luxury EV | In progress |
| Lucid Air | Luxury + Fastest EV | In progress |
---
3 Affordable Electric Cars:
It's a bitter reality that the EVs are slightly more expensive than their traditional gas engined counterparts. But for your convenience, we have compiled a list of some affordable best electric cars for you;
1. 2017 Smart Electric Drive: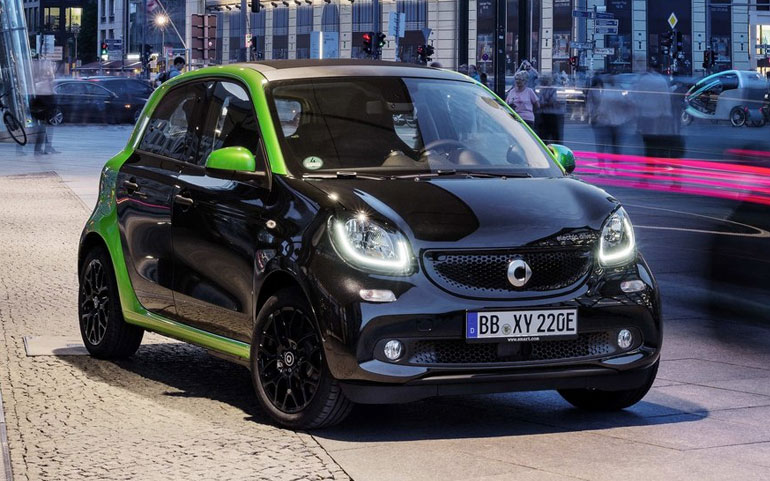 Price: $23,800
This affordable everyday use EV is manufactured by Daimler AG. It is a very compact EV for 2 persons. A perfect choice for an everyday urban routine where parking is the biggest issue. The motor of Smart Drive can produce a power of 80 horses. The estimated range is only 58 miles but it charges pretty fast in only three hours it can be charged 100%.
2. 2018 Ford Focus Electric: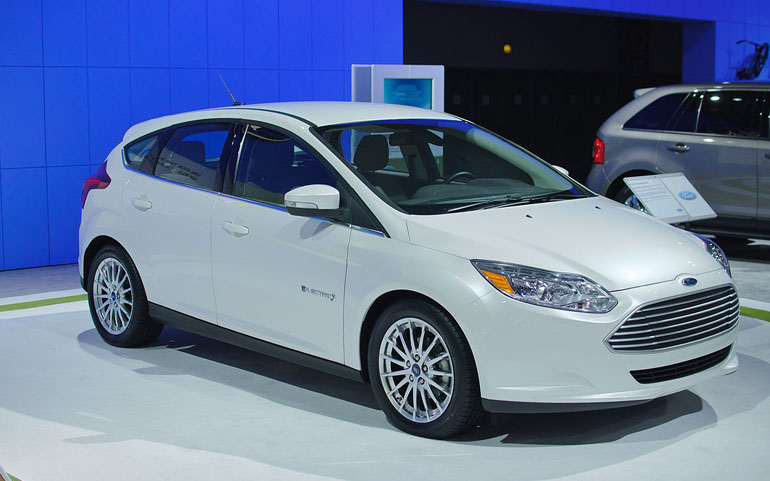 Price: $29,190
It is based on the four-door hatchback model of Ford Focus. It comes with 115 miles mileage on a single charge. Plus you can instantly add a 75miles mileage by charging it for only 30 minutes using a DC charger. It has a top speed of 84 mph.
3. 2017 Hyundai Ioniq Electric: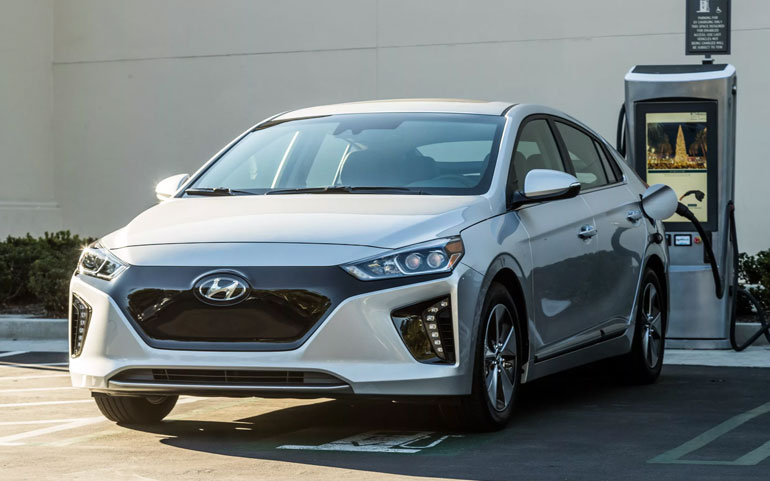 Price: $29,500
It is a five-passenger hatchback. Ioniq can give a mileage of 124 miles with its 118-hp electric motor on a single charge. It comes with standard DC fast charging with SAE Combo charging port which can charge its battery up to 80% in just 23 minutes.
---
3 Small Electric Cars:
If you want a compact EV for everyday use, especially in urban areas where parking and traffic are the core issues. These small EVs will definitely be your choice;
1. Renault Zoe: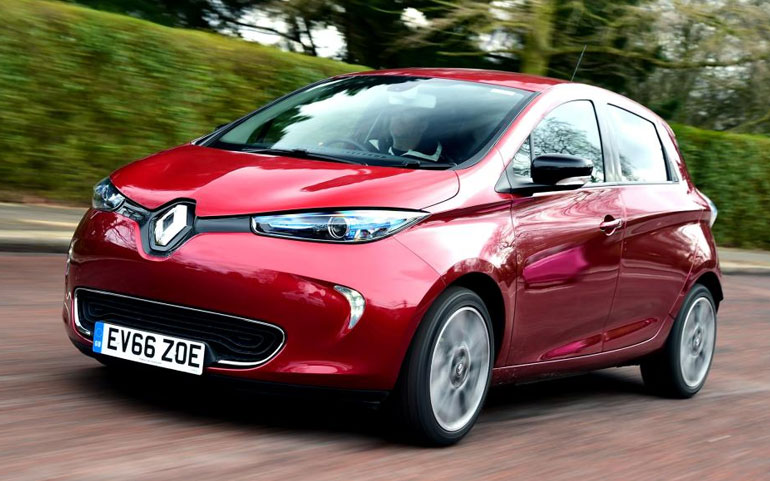 Price: $ 27418.84
Zoe is indeed an urban-chic, it is a five-door supermini hatchback which is suitable for four persons. It is an extremely stylish car which is perfect for use in the everyday busy jam-packed city life. It comes with a 22 kWh battery and gives a very good mileage of 180 miles.
2. Nissan Leaf: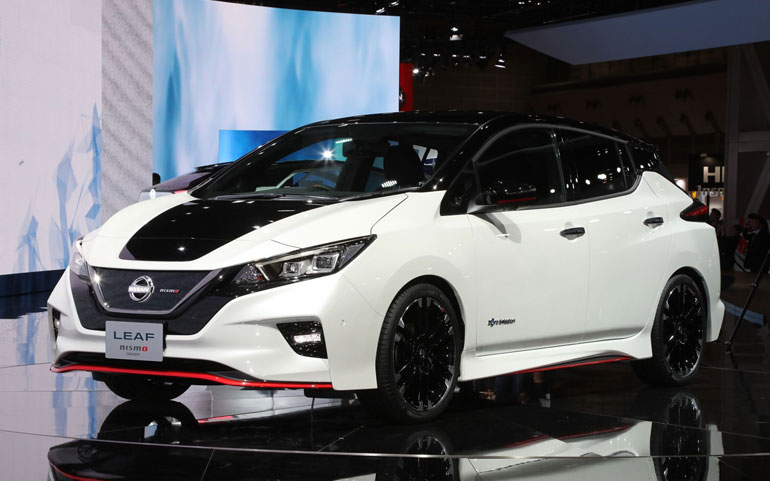 Price: $34655.83
Nissan Leaf is a family hatchback car. It is one of the best electric cars which are not only eco-friendly but economical as well. Plus, Nissan Leaf is well supported with advanced technology like Apple CarPlay, etc. It has a range of 151 miles per single full charge and offers 147 horsepower. It is 100% green making it run only on electric motors.
3. Kia Soul EV: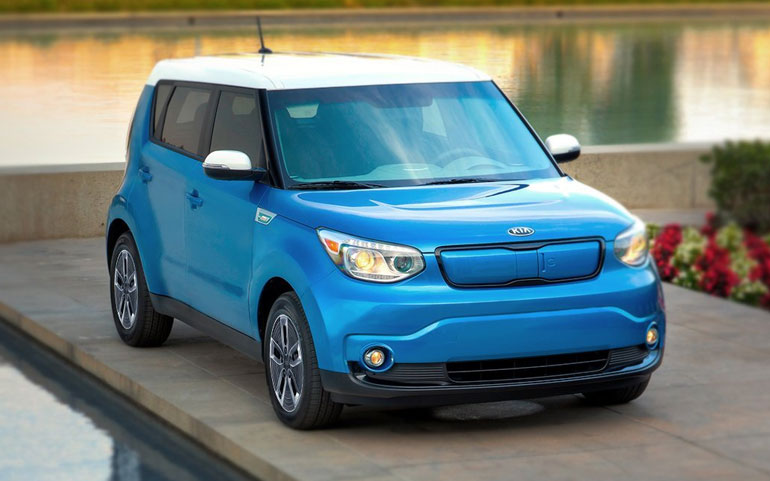 Price: $32,800
The Soul is a subcompact crossover SUV which is all electric. It is a funky looking cool car which is 100% eco-friendly. It has a spacious interior but the back seats are slightly uncomfortable for long drives. It has 30.5 kWh battery and can give a mileage of 93-111 miles. It drives better than its petrol version producing more torque and zip.
---
5 Fast Electric Cars:
Those days are gone when EVs were slow. Now the EVs are very fast and accelerative. Here are some of those fast EVs available in the market;
1. Nio EP9: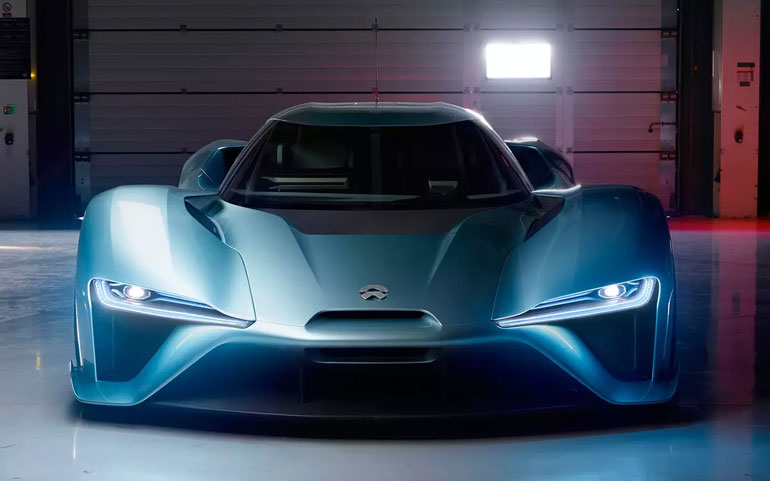 Price: $1.2 million
It is claimed to be the world's fastest EV by Nio. It is a lightweight car which is built on a carbon fiber chassis. It has a top speed of 194mph and can go 0-60 in 2.7 seconds. The EP9 has excellent road grip due to its 320/705 R19 Avon tires. The Nio EP9 is a hardcore racecar which is 100% electric. It can be charged fully in a minimal time of 45 minutes. Only 10 models of EP9 will be built which are already sold. It is an extremely fast car to drive but It's not suitable for everyday use because for charging the two batteries weighing 317kg each have to be taken out every time.
2. Genovation GXE: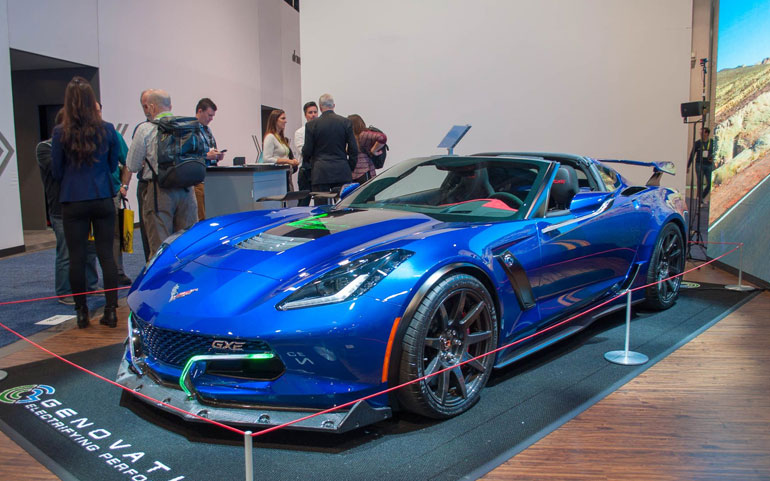 Price: $750,000
It is an all-electric Corvette which is manufactured by Genovation cars a small carmaker in Maryland. The GXE is the sixth generation C7 Corvette in which a battery of 44kWh has been fitted. It is said to produce a horsepower of 800hp. The top speed of this all-electric Corvette is 220mph. it is very fast like the gas engine corvette with a sprint time of 0-60 in less than three seconds. It will be available in seven-speed clutch operated manual transmission or an eight-speed paddle shift automatic transmission.
3. Tesla Model X: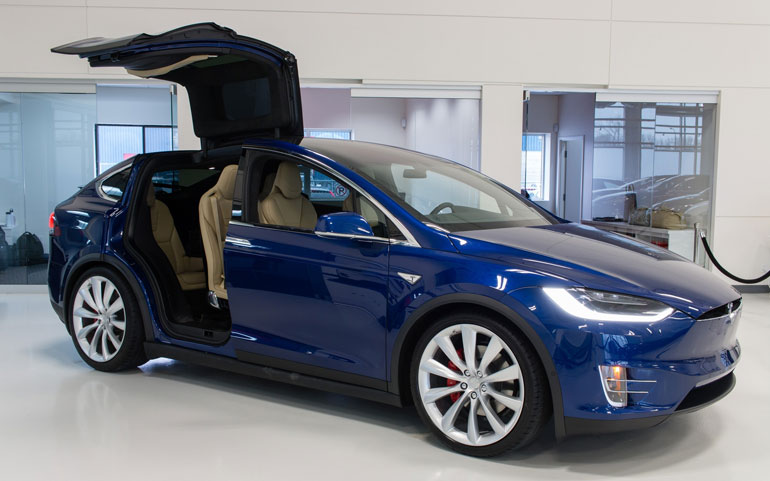 Price: $144,000
Tesla Model X is an all-electric SUV. The Model X is beautifully designed and ranked 7th in 2016 in the best-selling plug-in cars. The Model X is the future of SUVs and the safest one at that. As it is an all-electric car that means there's no engine in it and more space to fit the cargo. The rear Falcon Wing doors are the most prominent feature of the car other than the speed. About the speed, well this 7-seater SUV can do 0-60 mph in just 2.9 seconds and has a mile range of 295 miles on a single full charge. The advanced autopilot is laden with assistive features that are designed for safety and convenience. The expansive 17-inch touchscreen center console works as the command center of the car.
4. Tesla Model 3: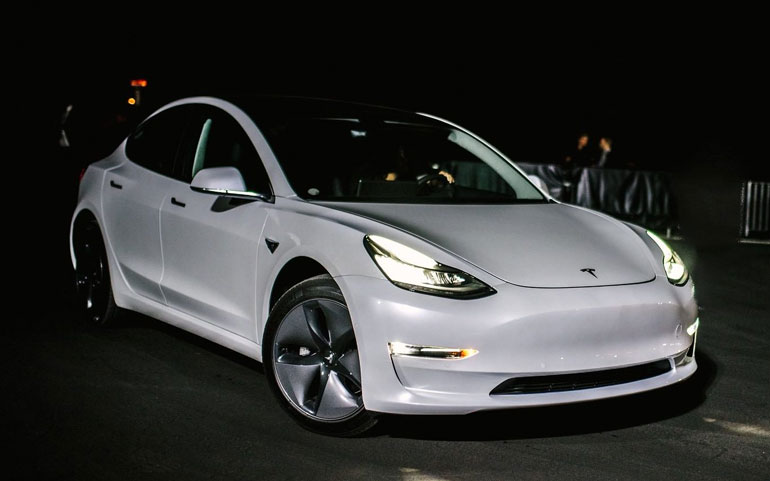 Price: $35,000
Tesla has never disappointed its customers, with its Model 3 it has attained the highest safety ratings in every category. Model 3 has 20'' performance wheels and brakes to give it full control in all kind of weather conditions. Model 3 is definitely the future of EVs it can go 310 miles on a single charge. It is fast as well with a 0-60mph in 3.5 seconds. Model 3 is a stylish car for which more than half a million people have put down a deposit to buy. It is a revolution in EVs, it is an all-wheel Drive sedan. The All-Wheel Drive has two independent motors who digitally control the torque of the rear and front wheels to ensure a better handling driving experience. Apart from this, the Model 3 is full of technology. It has autopilot advanced safety and a convenience feature which will assist you during the most burdensome parts of driving.
5. Porsche Panamera Turbo S E-Hybrid Sport Turismo:
Porsche's all-electric Mission-E is still under process but that doesn't stop Porsche from taking a spot on the best electric cars with its Panamera Turbo S E-Hybrid Sport Turismo. Phew! That's quite a long name; let's just call it Panamera from here on. So, Panamera is at the time, the world's most powerful stock estate car. It is a plug-in hybrid that produces a total of 671bhp and 649 lb-ft of torque. The engine which is a 4.0L twin-turbocharged V8 produces 542bhp and the electric motor produces 134bhp. It is capable of doing 0 to 62 in just 3.4 seconds. The EV range is 30 miles at up to 87mph of speeds. The Panamera is fitted with the latest and most advanced technologies. It is indeed one of the best electric cars available.
---
3 Future Electric Cars:
Some of the most awaited best electric cars are;
1. Polestar 1: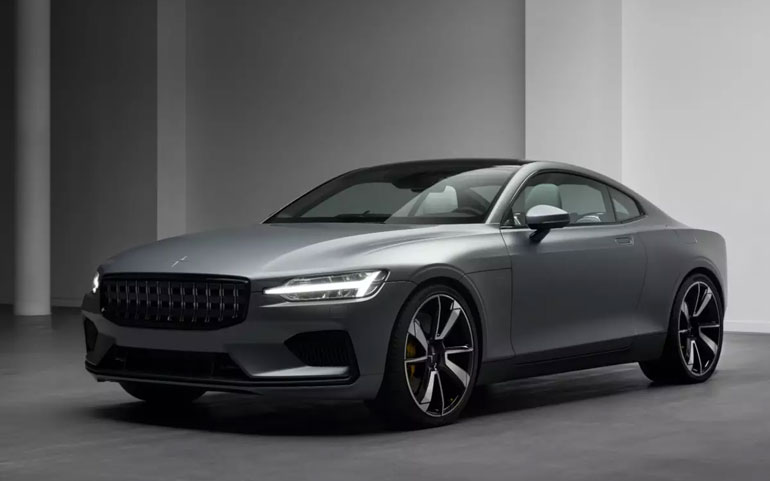 Polestar 1 is the much-awaited mysterious electric sports car by Volvo. It is definitely one of the best electric cars which will be available in 2019. Volvo is going to make only 500 Polestar 1s in its all-new factory which has been set up in China. A 2.0L supercharged and turbocharged 4-cylinder engine with the capacity to produce 336 hp and 273 lb-ft of torque will power the car along with 2 electric motors that generate 218 hp and 354 lb-ft of torque. The combined power output is set to be 600 horses and 738 lb-ft of torque.
2. Audi E-Tron Quattro: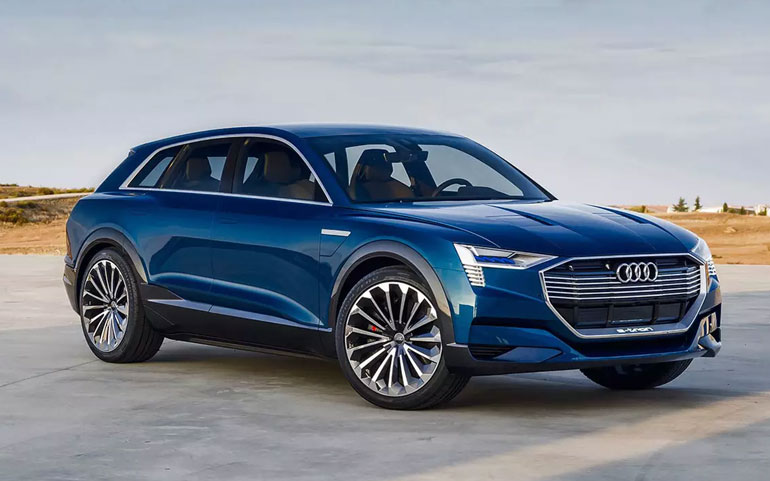 Audi E-Tron Quattro is the upcoming Audi's first series-produced all-electric luxury class SUV. It will be a rival to the Tesla Model X and the Jaguar I-Pace. The car is still kept under covers and not much of it is seen by the public. According to Audi, it will have 250 miles of driving range which seems enough to commute on a daily basis. The e-Tron Quattro will be able to sprint from a standstill to 62 mph in just 4.6 seconds. It will be controlled by an intelligent drive management system for proper efficiency. The car will be easy to control due to the Torque Control Manager. Audi will unveil the e-Tron Quattro at Brussels, Belgium in August 2018.
3. Lucid Air: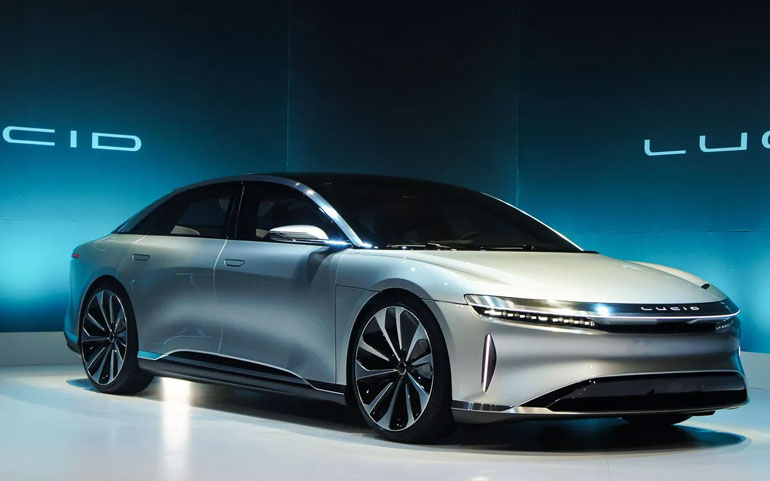 This is a luxury car which will be developed by Lucid Motors. It is a high-end electric car which is supposed to be a direct rival of the Tesla Model S. A prototype of this car has achieved to hit a top speed of 235mph and they claim that it will go 0-60mph in just a fraction of 2.5 seconds. It is expected to come out in 2019.