The new 2020 Subaru Outback builds upon the Subaru legacy for classy, comfortable, and functional design – with slight improvements that make all the difference. The redesigned Subaru Outback wagon offers a spacious cabin and ample cargo space for travelers. The roomy interior, along with added comfort features and exceptionally secure, responsive handling, contribute to a very comfortable ride. With a commendable off-road drive, state-of-the-art safety and driver-assist suite. Furthermore, an optional knockout turbocharged engine, the Subaru Outback is one of the best wagons you can buy in 2020. Not to mention, it tops the list of the best family cars on the market. The 2020 Outback came in the last quarter of 2019 in seven trim levels, namely Basic, Premium, Limited, Touring, Onyx Edition XT, Limited XT, and Touring XT.
This rugged SUV alternative poses some setbacks as well, such as ordinary V4 engine power and a few glitches in the infotainment setup. Nonetheless, the Subaru Outback offers remarkable value for money. Let's dive deep into the top-notch interior, exterior, safety features, and mechanical elements of the 2020 Subaru Outback. Find out what exactly makes this stand out from the previous models.
What's New in The 2020 Subaru Outback
A glimpse at the new Subaru's exterior design illustrates that it barely looks different from its predecessor, but further investigation tells us otherwise. The same look comes with various features. Die-hard Outback fans aren't concerned that the vehicle still looks the same because this new wagon's charm lies in its drive. Plus, consumers can now opt for a 260-horsepower turbocharged engine. They'll also enjoy a classier cabin constructed from better materials, a handful of more safety features, and a brand-new 11.6-inch touch-screen infotainment system.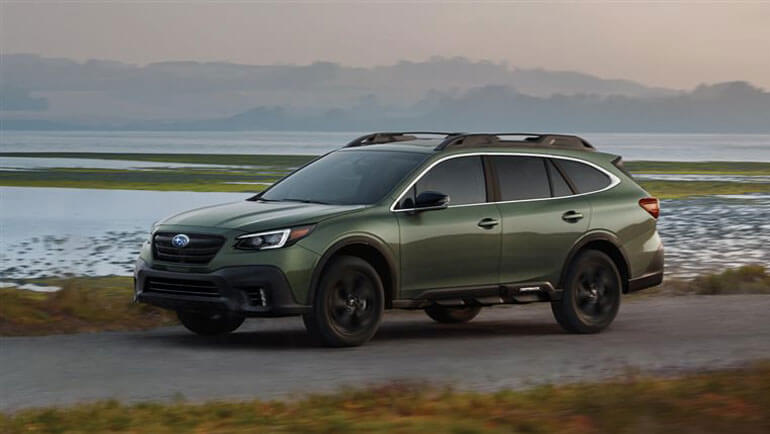 Basic Specifications
Classifying as a small sport utility vehicle with symmetrical four-wheel drive, the 2020 Subaru Outback can seat five passengers. It offers two engine options, i.e., a standard 2.5L flat-four and an optional turbocharged 2.4L flat-four. The all-wheel-drive and CVT are also standard. Other basic specifications include SUBARU STARLINK Multimedia, EyeSight Driver Assist Suite (comprising of adaptive cruise control, forward collision warning, forward automatic emergency braking, lane departure warning, and lane-keep assist), 18.6-gallon fuel tank capacity, 4-wheel disc brakes, 32.5 cubic feet cargo volume, and more.
Engine Performance and Mileage
The 2020 Subaru Outback features the same 2.5L four-cylinder engine (also available in Forester as well as other models), creating 182 horsepower and 176 pounds-feet of torque. This unit is mated to a continuously variable automatic transmission (CVT) powering all the wheels. While this base engine powers the 2020 Subaru Outback just fine, it feels overworked when it is put under extra stress. Looking for extra energy? No worries, the automaker is also offering an optional turbocharged 2.4-liter flat-four pumping out 260 hp and 277 pounds-feet of torque. This powertrain is standard on the Outback Touring XT, Onyx Edition XT, and Limited XT models. This turbo engine allows the vehicle to accelerate with no sweat at all, entirely transforming the game.
Talking about the offroad performance, this wagon does pretty well when it ventures off the beaten path, thanks to the 8.7 inches of ground clearance and standard X-Mode off-road driving setting. Things would get more interesting for buyers opting for 2020 Outback Onyx Edition. It also offers deep snow and mud settings along with a front-view camera to help traverse irregular routes.
The Outback with a standard engine has an EPA-estimated range of 26/33 mpg city/highway while the turbo engine delivers 23/30 mpg city/highway. These economy figures are on par with most other wagons on the market.
A Not So New Exterior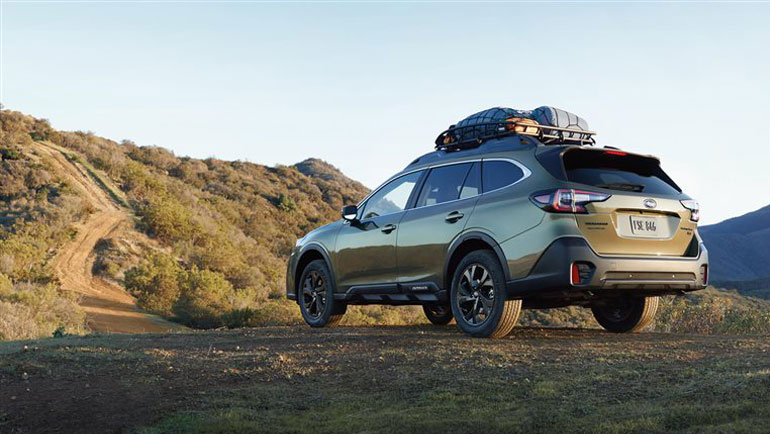 The 2020 Subaru Outback exterior is barely distinguishable from the previous model. It exhibits the same stylish, yet rugged smart SUV look with durable all-season tires on aluminum alloy wheels, sleek roof rails, and a clear coat paint. You'll also notice deep-tinted glass that gives passengers privacy and shade. While other exterior features such as efficient rear windshield wipers or LED fog lights (not available on the basic version) offer a safe, worry-free drive. The only significant change resides with the Onyx Edition XT Subaru, which brings a slight shift in the exterior with blacked-out exterior trim. Want a unique finish that stands out from every other wagon on the road? Subaru presents an enticing range of colors including Abyss Blue Pearl, Crystal Black Silica, Ice Silver Metallic, Magnetite Gray Metallic, and Crystal White Pearl. Furthermore, it includes Autumn Green Metallic, Crimson Red Pearl, Cinnamon Brown Pearl, and Tungsten Metallic.
Interior and Technology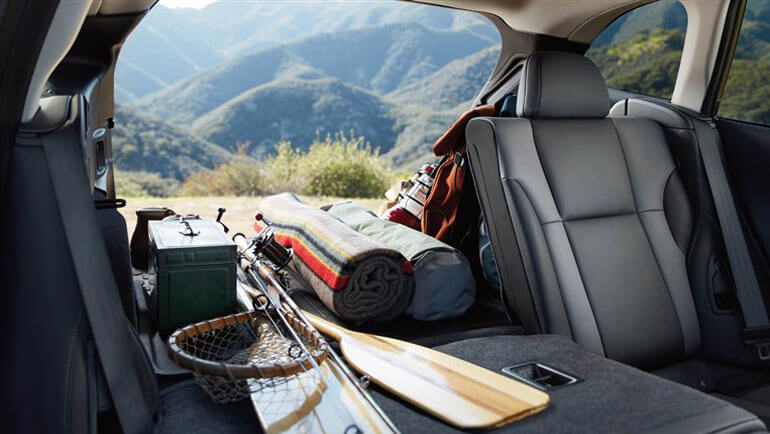 The new-generation 2020 Subaru Outback offers a pleasant blend of interior space, comfort, style, and top-grade multimedia technology. Subaru has been deploying this mix for a while, and this 2020 wagon model is no exception. The interior presents a laid-back experience for passengers with comfortable seats and ample legroom. Moreover, it raised back-seating to look through the windshield. Aspects such as air filtration, rear cupholders, and rear head restraints that are manually adjustable add to the superb passenger experience.
The driver's experience doesn't fall anywhere behind – there is a heated metal and leather steering wheel (optional), front cupholder, a leather and chrome knob for the gear shift, convenient footrest, and a lot more. Furthermore, the vehicle includes the standard Speedometer, Odometer, Trip Odometer, and Engine Coolant Temp gauges. Along with a Tachometer and Trip Computer gauge. A compass, outside temperature gauge, and a system monitor are also a part of the deal.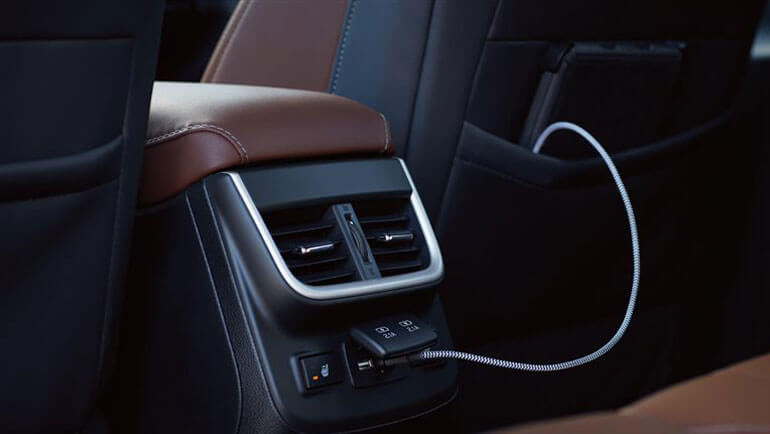 As for the tech, the 2020 Subaru Outback boosts its value by including a large vertically positioned 11.6-inch touchscreen multimedia display that's fully customizable. The system presents big and bright icons, so user engagement is a breeze. Some might argue, however, that the colorful icons and complex new system don't exactly give off a great vibe. Controls seem more complicated for those used to a simple interface.
The notable 2020 Onyx Edition XT introduces brand-new neoprene upholstery that Subaru dubs as StarTex. It has blue stitching on a gray-colored base and is incredibly water-resistant. So, if you're into kayaking or surfing, this feature might just make the 2020 Subaru Outback your next best friend.
A Bunch of Neat Safety Features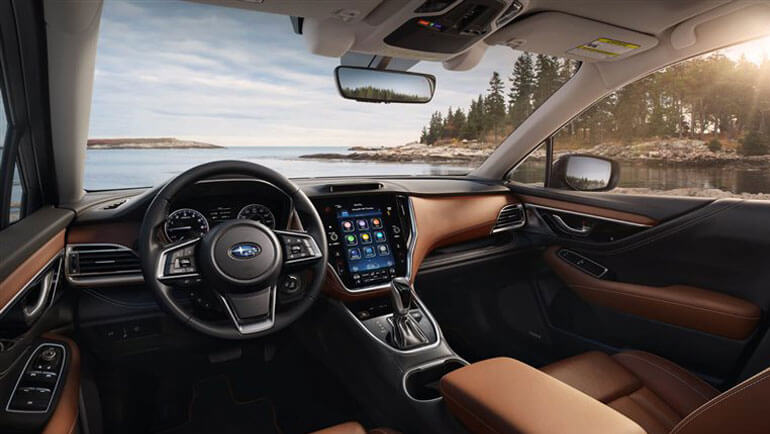 This new Subaru wagon has received plenty of admiration for its wide range of safety features. Starting with the active features, it boasts EyeSight Driver Assist Technology, High Beam Assist (HBA), Vehicle Dynamics Control (VDC), Brake Assist, Brake Override System, ABS, TCS, and TPMS. And more – all of these contribute toward a much safer drive. Moreover, the wagon has an array of airbags such as the advanced frontal airbag system (SRS), side curtain airbags (SRS), and a driver's knee airbag (SRS). These features combined with other safety elements like the whiplash-reducing front seats, make the Outback awfully safe. The best part is that all these modern safety features do not add to the cost of 2020 Subaru Outback much, unlike many of its competitors.
2020 Subaru Outback Price
The 2020 Outback starts at $27,655 (including destination), and the price goes up as we move up the ladder of trim levels. The most expensive model sells at just under $41,000.
Final Words
Even with its seemingly untouched exterior, the 2020 Subaru Outback has a lot in store. The slim, smart, robust wagon presents a bunch of interesting new features with a focus on an enhanced drive both on and off the road. A comfortable interior, smooth and powerful drive, and a plethora of safety facilities, all are at a relatively budget-friendly price!