The Rolls Royce Cullinan SUV took ages to hit the market. In 2013 it was teased and confirmed in 2015. It has finally shown publicly in May. But now that it's on sale, the vehicle's impact on the British ultra-luxury brand has been significant.
The Cullinan is the very first Rolls Royce's SUV which starts rolling in driveways this season. When the name of Rolls Royce hit the screen, the very first thing that came in mind is a bunch of amounts. Moreover, the "Cullinan" word is the name of the most expensive and precious Diamond. This diamond is worth thousands of dollars. As its name shows its worth. And it is not your regular routine fuel-efficient SUV.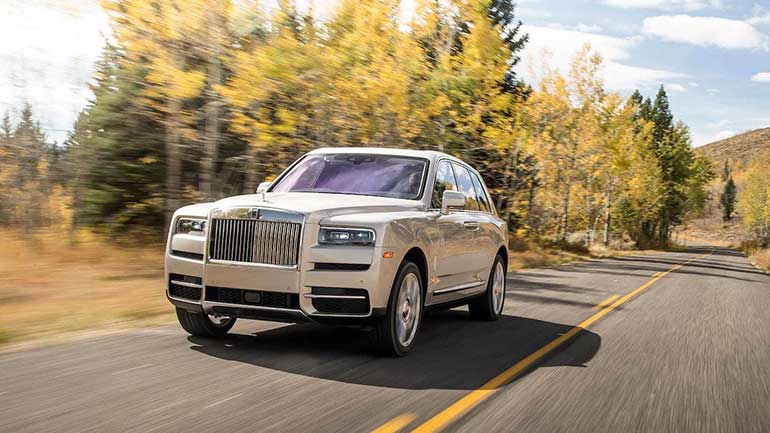 The Cullinan Rolls Royce is more of a super-luxury cruiser (SUV) than a quick and Hatch-Back road carver. In other words, the 2019 Rolls Royce Cullinan is ridiculous with its wonderful features and performance.
The Cullinan is propelled by massive 6.75-liters V12 Twin Turbo Engine with an elephantine weight of 5,984 pounds. The company stated about this beast is "This is the world's first super luxury all terrain SUV".
---
What Rolls Royce Cullinan offers?
Grey Poupon luxury
All-wheel drive
All-wheel steering system
Top speed: 155 mph
0-60 time: 6.7 sec
High-resolution Head-Up Display
Driver Alert system
Four-camera parking system with a panoramic view
Active cruise control
Wi-Fi functionality
563-Horsepower
---
Pricing:
$425,000
---
Structural Design of Rolls Royce Cullinan:
Enormously, it is 17.5 feet long, 7 feet wide, and more than 6-feet tall. On 22-inches wheel, it is killing the road. And it's hood's capacity is wide enough to make the space for V-12 twin turbo. Moreover, the traditional front grill gives it the spiritual Royal's DNA.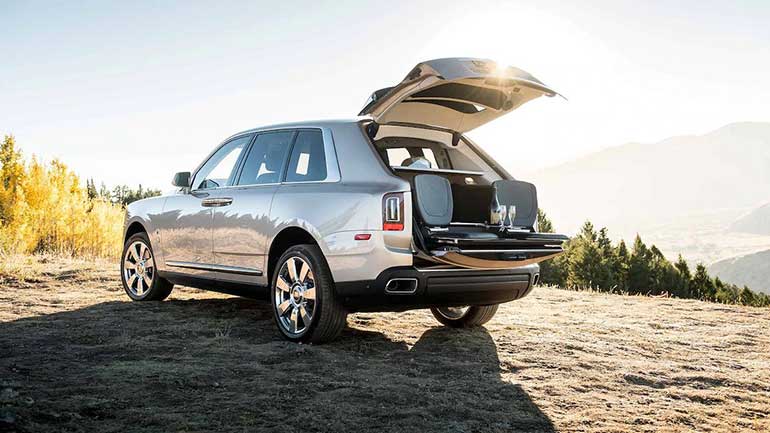 ---
Interior Design:
Just like traditional Rolls-Royce, there is a four-passenger layout with two separate rear seats. Seats are stitched with fine and incredible leather. A drink cabinet is also placed with refrigerators and Champagne flutes which gives the feel of a luxurious private bar. The center console box is also placed between the rear seats. As well as, Rolls-Royce's whiskey glasses and decanter are optional. If you want it as a family car you can also order the Cullinan five seat lounge. Most of the Chinese go for this five-seat layout.
The front and rear seats are well heated, ventilated, and immensely adjustable. Massaging functionality is also installed to give you more comfort and cozy atmosphere. These seats offer a vast head and leg room. In the boot, there are luxurious picnic folding seats and table. Besides these features, each seat has its own climate control.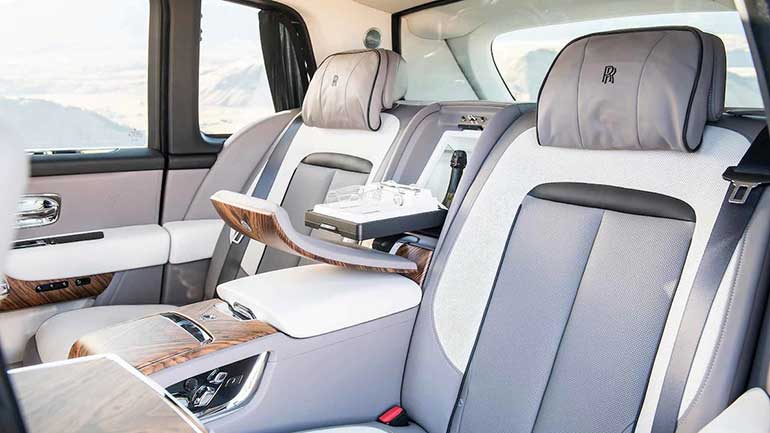 The suicidal front and rear doors open and close automatically with just one button. The thing that is hard to believe that this opening and closing happen silently (no sound). This will leave you in cozy cocoon. The cameras are installed at front and rear for getting help in parking. You can set the view of the rear camera without getting out of the vehicle. I've already told you that this car is completely electronics. It's gadgets work with just touching the buttons and sensors.
The enormous and tall windshield assists to create wondrous visibility. The sunroof with panoramic glass retracts for rear passenger to stand up and look outside the vehicle for parade-wave. And the side windows are also wide enough for good view. There is a storage area behind the rear seats large enough to accommodate all the golf clubs, gun bags, and luggage or picnic equipment you'd need for a proper "Downtown Abbey" weekend outing.
---
Exterior Design:
A unique Cullinan design providing the platform for iconic ride whatever the condition it is. Features such as self-leveling, air suspension cushions against the toughest surfaces, proactively adjusting to acceleration, steering cues. Moreover, camera intelligence is there to assist in making your driving experience better. The double-wishbone front axle and five-link rear axle deliver agility and stability.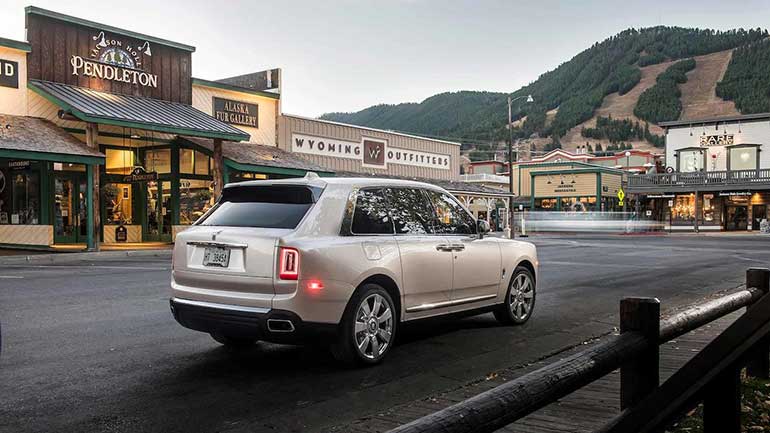 ---
Performance of Rolls-Royce Cullinan:
The Cullinan passed through the final challenge in which the beast went through three different continents. Moreover, the tester rode this vehicle 1,200 miles of the world's toughest and rough tracks to showcase its performance capabilities.
This is the very first all-wheel drive by Rolls-Royce with incredible technologies. 22-inches wheels make it more powerful on uncertain tracks. Winter tires are also available in 21-inches. Moreover, all of Cullinan's tires are well designed to reduce road noise. And Cullinan provides the smooth and noise free ride. The riding experience is just peerless. The eight-speed automatic transmission coordinates with all-wheel drive. That also includes rear-wheel steering which is seamless and un-intrusive. The 30-gallon gas tank allows you to travel with a mileage of 14-miles per gallon.
The performance of Cullinan on unpaved roads (off-roads) is better than many other expensive SUVs. The Cullinan's suspensions and V-12 twin turbo engine boosts it excellently.