To celebrate its 110th birthday, Bugatti revived its famed racing car – the 1924 Type 35 Lyon Grand Prix car (aka Bugatti Baby) – and displayed it at the 2019 Geneva International Motor Show. Created by the French automaker and Junior Classics. This limited-run Bugatti Baby II was very well received by kids who didn't take long to book the available 500 slots. The $33,000 go-kart-like vehicle offers drive modes for both kids and adults, but it is better suited for the rich kids.
It is about a 75% scale replica of Bugatti Baby, which makes it a capable car for adults too. It features an electric powertrain that gets power through removable lithium-ion battery packs. The power goes to the rear wheels.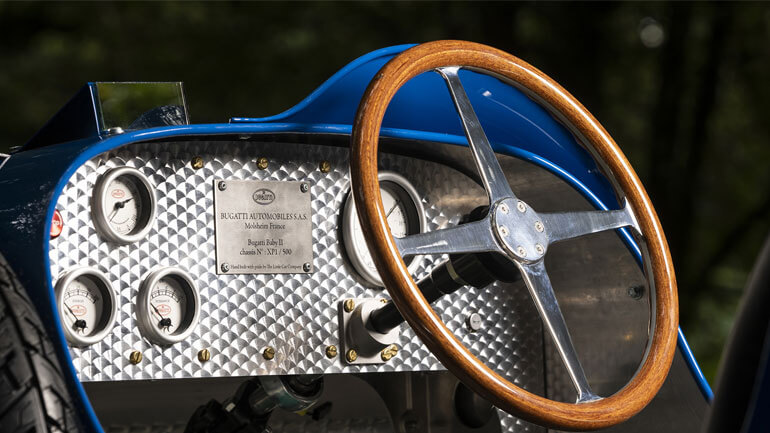 The Bugatti Baby II offers two drive modes; a child mode and an adult model. The child mode allows the car to generate 1.3 horsepower only and achieve a top speed of 20 km/h (12 mph). In the adult model, the electric motor creates a power output of 5.4 hp. Moreover, attains a top speed of 45 km/h (28 mph). Adults who feel it underpowered can opt for the "Speed Key" upgrade (also available in popular cars like Chiron and Veyron) to unlock 13.4 horsepower. The standard battery is 1.4 kWh, but customers can upgrade it to 2.8kW to get an extended range.
Talking about the salient features, it includes a limited-slip differential, horn, rearview mirror, handbrake, headlights, regenerative braking, and remote control to kill the motor. The car also sports a solid-silver Bugatti badge and Michelin tires (same as in Chiron). So the kids can appreciate the true excellence of the French automaker.
The kiddie car only weighs 500 pounds and is available in Bugatti's customary French Racing Blue finish (other paint options are also available). It sports eight-spoke aluminium alloy wheels, which give it a classic racer appearance.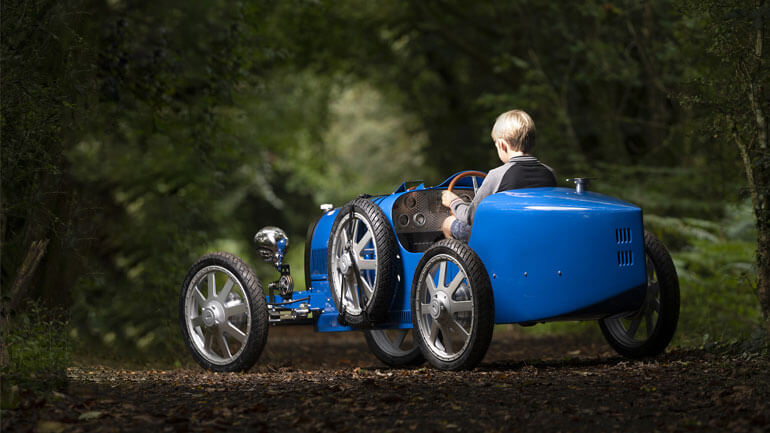 Bugatti is offering the Baby II in three variants. The basic version starts at $33,000. The second variant, the Baby II Vitesse, gets a little expensive. Owing to its carbon fibre construction and availability of the 'speed key' function. The Baby II Pur Sang gets even costlier due to its hand-built aluminium body. I thought what if someone buys this version and showers it with 'mercury' paint; it would look shiny and deadly. A word of caution, though, check with your country's laws before you go acting upon my advice.
Surprisingly, it took Bugatti just three weeks to sell out all the units of Baby II. Anyone eager to buy such a cheap Bugatti has to wait until a buyer on the list drops out or decides to sell it later on. Bugatti recently unveiled a prototype of the Baby II, but the production will commence at the start of next year.