To enjoy oneself with a long road trip for the purpose of recreation or for any other useful objective is a usual part of one's life. Countless people around us consider it one of the greatest adventures to go on a road trip accompanied by their friends or family members. Whether these road trips prove deliciously pleasant or tragically boring depends upon the way you undertake them and the vehicle you choose for these trips. This is because the more your vehicle facilitates and comforts you on your journey; the more memorable it gets and vise versa.
Top 10 Best Road Trip Cars
Hence, it is a matter of great care to opt a most luxurious and impressive as well as an economical four-wheeler. Keeping in view this great fact, we have detailed a collection of some of the best road trip cars on the basis of their respective MPG, cargo space and some other specialty offered as a trade-off. So, here we go now.
1) Lamborghini Urus: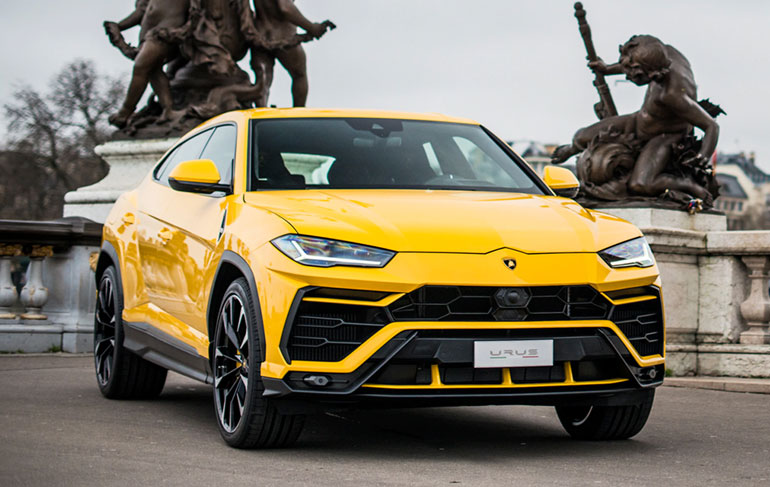 This is the first foray of the company into the SUV market and is really a very dramatic one with its raked roofline, sleek LED lighting and huge 22 or 23-inch wheels stuffed inside jagged hexagonal wheel wells. The Italian company Lamborghini S.P.A unveiled it on the 4th December 2017 as a model for 2018. Having been designed by Mitja Borkert of Italy, It hit the market in February 2018. This mid-sized luxury road tripper has five doors and a front engine of 4.0 lit FSI twin-turbocharged V8. Its power output is 478KW (641 hp @ 6000rpm; 650 psi) and it has a transmission mechanism of 8 speed ZF BHP automatic. Its petrol engine also has a good mileage of 32 mpg in the city and 36 mpg on the highway. The automatic petrol variant also serves 8kmpl mileage. The dimensions of this powerful beast are 118.2 inches wheelbase, 201.3 inches length, 79.4 inches width and 64.5 inches height with a curb weight of 4900 lb. its powerful engine covers from 0—60 mph in just 3.4 sec and can attain the top speed of 190 mph. Such a classy road trip car will never be mistaken for any other. Talking about cargo capacity, it is worth appreciating as well.
---
2) Subaru Impreza 2.0i Limited 5 Door: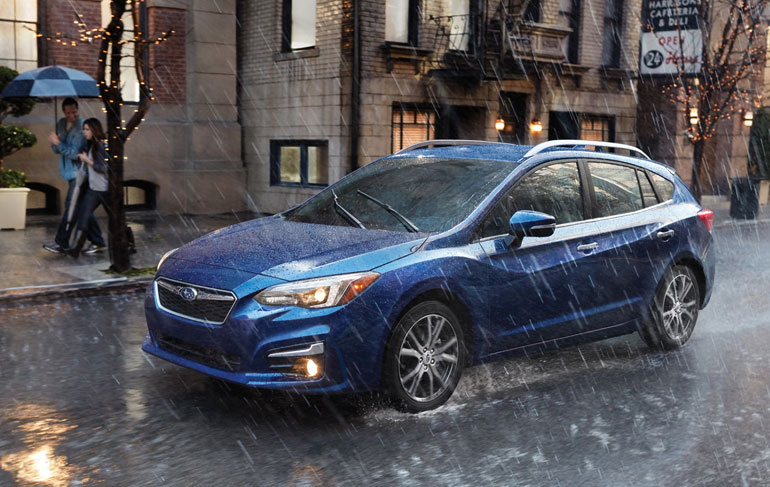 This legendary road trip car with a hatchback body style and a base curb weight of 3128 lb presents a charming look and makes its owner feel proud of it. With its onboard hands-free communications system and wireless cell phone hook- up, its regular unleaded h-, its regular unleaded H-4 all-wheel drive engine with 2.0 L/122 displacement, net 152@6000 rpm horsepower and a net torque of 145@4000rpm gives you a carefree luxury drive on your road trip. With its automatic transmission along with manual mode, it gives a superb mileage of 28 mpg in the city and 37 mpg on the highway. It boasts of strut type for the front suspension and the double wishbone type for the rear one. ABS 4-wheel disc brakes and various other safety measures, an attractive and comfortable interior and a good looking exterior enhance its beauty and the comfort level to the maximum. Available in so many colours with the compatible dimensions of length, width and height, and the tire pressure monitoring system, Subaru Impreza is always rated very high among the other road trip cars available in the market.
---
3) Volvo V60 Polestar: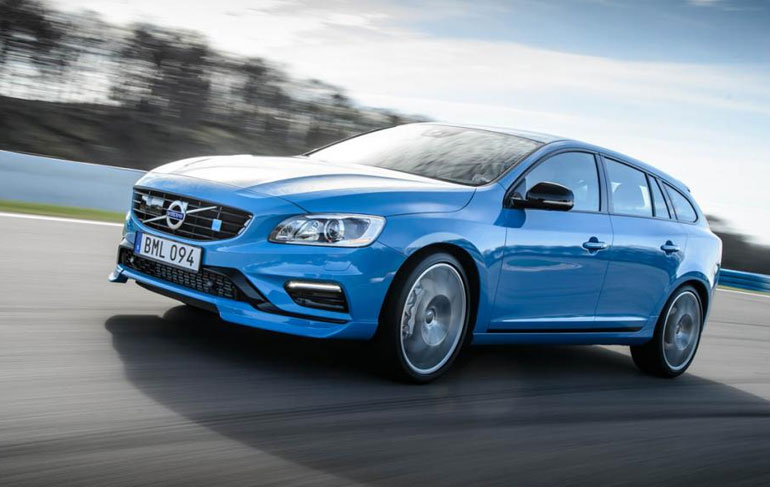 This one of the best road trip cars with a gas engine (2.0 L, 4 cyl, twin turbocharged) having the transmission of 8 speed shiftable automatic provides the all-wheel drive with the help of four inline gas cylinders. Its fuel tank with a capacity of 17.8 gallons of premium unleaded gives EPA mileage of 20 mpg in the city whereas 27 mpg on the highway. The engine boasts of torque of 347 ft-lb @3100 rpm and a horsepower of 362 hp @6000 rpm with 16 valves and a turning circle of 39.0 ft. Regarding the safety of this road trip car, it is very much secured and the inmates always enjoy their fun and frolic with utmost security. Its safety measures rear door child safety locks, turn signal mirrors, daytime running lights, engine immobilizer, dual front side-mounted airbags, stability control, child seat anchors, post collisions safety system, etc. Apart from all the aforesaid, this road trip car also provides maximum entertainment to its users. It includes Harmon/Kardon premium brand speakers, AM/FM stereo, video monitor, auxiliary audio input and USB with external media control, DVD player, 650 watts stereo output, 12 total speakers, etc.
The level of comfort and convenience it provides is simply the superb and its powerful features and instrumentation enhance its beauty. With a front-wheel independent suspension and front and rear stabilizer bar, the company gives a basic warranty of 4 years including free maintenance for three years.
---
4) Jaguar F-Pace: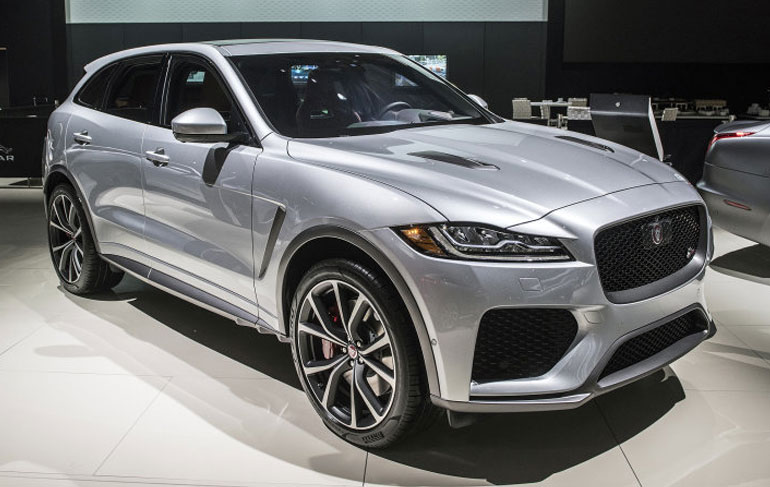 This excellent road trip car boasts of an intercooled turbocharged premium unleaded 1—4, V-6 engine, with an SAE net horsepower of 247 @ 5500 rpm and an SAE net torque of 269 @ 1200 rpm. Its displacement is 2.0 L/ 122 and it has all wheel drive system. With it's six forward and one reverse gear, jaguar F-pace has 22 mpg in the city and 27 mpg on the highway. Having the fuel capacity of 16.6 gallons, this lovely road trip car has ABS brake system and 3880 basic curb weight. Favourite to a lot of car lovers, Jaguar F-pace has double wishbone front suspension with coiled springs and multi-link rear suspension which makes this locomotive well-balanced and stabilized. It's the auto stop-start engine and 8-speed ZF electronic automatic transmission give it additional features. It also has a lot of cargo and passenger space along with a few handy cabin features.
---
5) Ferrari GTC 4 Lusso: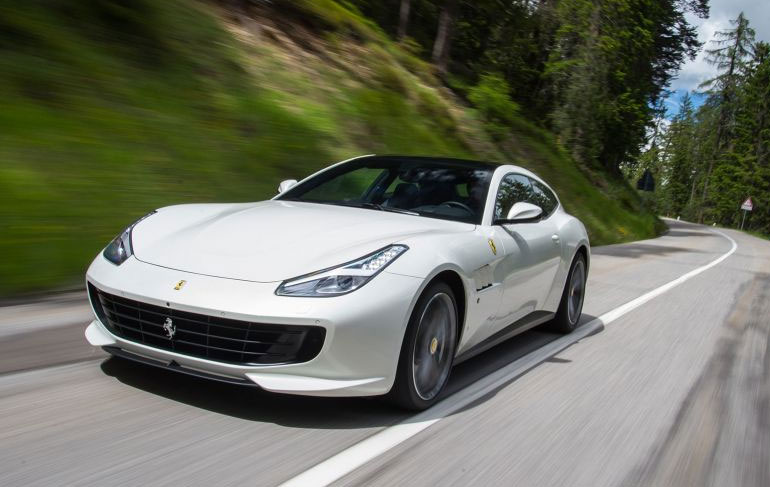 Though this car only does 17 miles to the gallon at best and has a very high price of 300 K, it is still one of the best road trippers. It may also cause the menacing roar but the moment you put your foot on the pedal and it covers from 0—-62 mph in 3.4 sec, you get bewildered. Its 6.3 L, V-12 engine with 680 hp, 514 foot-pounds of torque and the shooting brake body style make it a unique horse in the race. Its capacity for the cargo is also quite appreciable making it favourite to a lot of car lovers.
---
6) Aston Martin Rapide S: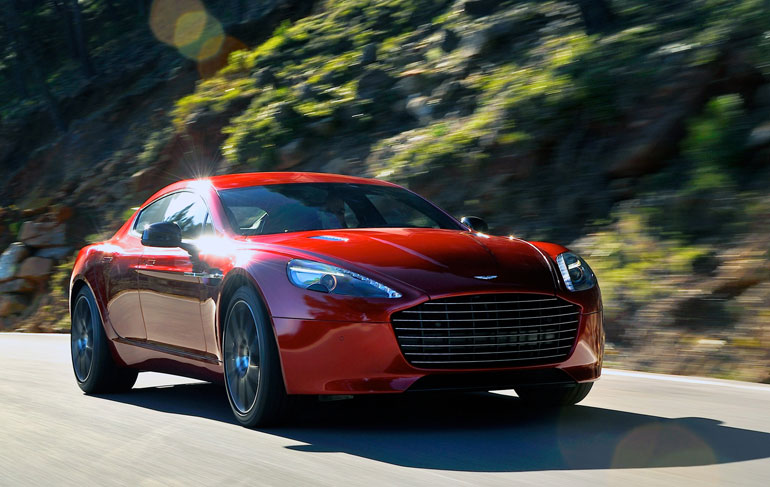 This is not a typical four-door car, but the most aesthetically-pleasing road tripper ever made with Aston Martin's core values of speed, luxury, and style. This V-12 powered stunner confers us the best way to cruise down the left lane efficiently and proudly. The Rapide's 5.9 lit mill churns out 552 hp @ 6650 rpm and transmits all of it to the rear wheels through an eight-speed automatic. It only needs 4.2 sec to hit 60 mph before approaching the maximum speed of 203 mph which can easily be boasted of happily by everyone. This rear wheel drive gives you a decent combined economy rate of 17 mpg with 14 mpg in the city and 21 mpg on the highway. Its premium unleaded fuel engine produces a torque of 465 ft-lb @ 5500 rpm. It has front wheel independent suspension with front and rear stabilizer bar. A number of extraordinary safety features, various interior and exterior packages, pleasing in-car entertainment, comfort and convenience, reliable power features and instrumentation, a lot of interior and exterior options, very impressive seats, measurements, weight and colors, strong wheels and tires make this road trip car simply glorious and worth loving.
---
7) Honda HR-V: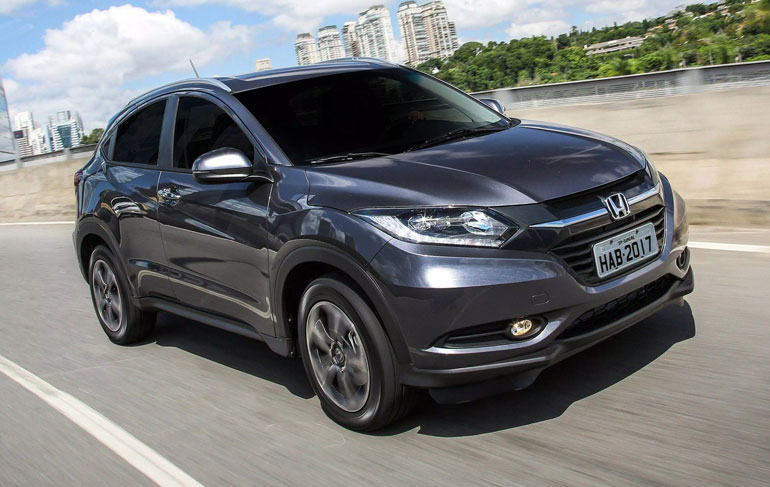 This HR-V is actually Honda's entry in this growing category of subcompact road trip cars. The strongly built HR-V model is closely related to the former model of Honda- Fit hatchback and has been built in the same Mexican assembly plant. The five seated HR-V gets its power from a 1.8 lit 4 cylinder engine having a manual transmission or a continuously variable automatic. Its front-or-all-wheel drive can give all trim levels very efficiently. The engine boasts of 141 hp @6500 rpm and a torque of 127ft-lb @ 4300 rpm. With its 16 valves and a total curb weight of 2888 lb, it also has a decent fuel economy of 25 mpg in the city and 33 mpg on the highway. It also possesses a standard transmission of 6-speed manual w/OD as well as an optional transmission of 2-speed CVT w/OD. Equipped with four-wheel front ventilated ABS disc brakes and a total of 6 airbags, this one of the best road trip cars provides an excellent level of safety. Besides, it also has a strong independent front strut suspension and a semi-independent rear torsion beam suspension w/ anti-roll bar to strengthen and stabilize it even more. In short, it is simply a superb road trip car.
---
8) Toyota Prius: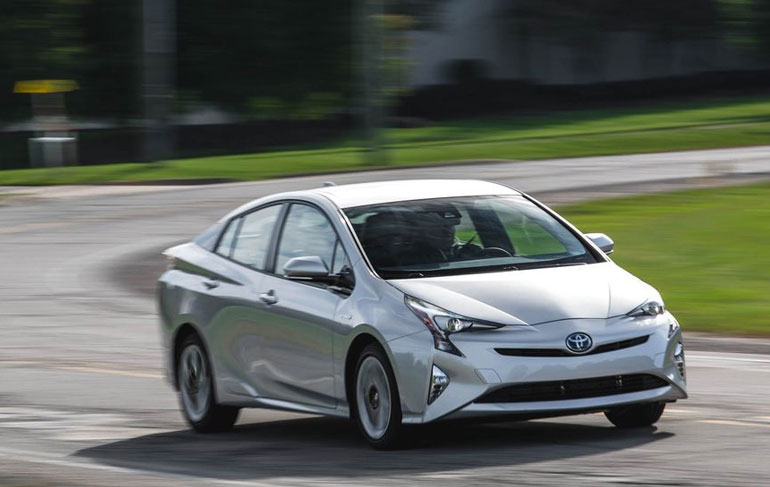 The chief most impressive feature of this road tripper is its marvelous fuel economy apart from the fun, style and practicality it blesses its users with. It returns up to 58 mpg on the freeway and feels pride in covering a total range of 600 miles. Toyota has enhanced the interior quality and the driving dynamics a lot over the previous generation and has also brought about notable improvements which you will definitely appreciate when you sit in this charming beauty. Its plug-in-prime model can add a few miles of your electric-only driving to your trip without having to stop to charge a battery-electric car. Its various specifications are as follows.
Engine and Performance
| | |
| --- | --- |
| Front wheel drive | 4 cylinder engine |
| Type: gas/electric 1—4 | Displacement: 1.8L/118 |
| Horsepower: 121@ 5200 | Torque: 105 @ 3600 |
| Transmission: CVT w/OD | Turning diameter: 33.5 |
Suspension
| | |
| --- | --- |
| Front: Strut | Rear: Double wishbone |
Fuel & Economy
| | |
| --- | --- |
| Hybrid fuel | Fuel capacity: 11.3 gal |
| Economy: 54 mpg in the city | Economy: 60 mpg on the highway |
All this shows how much fantastic this car is.
---
9) Audi S8: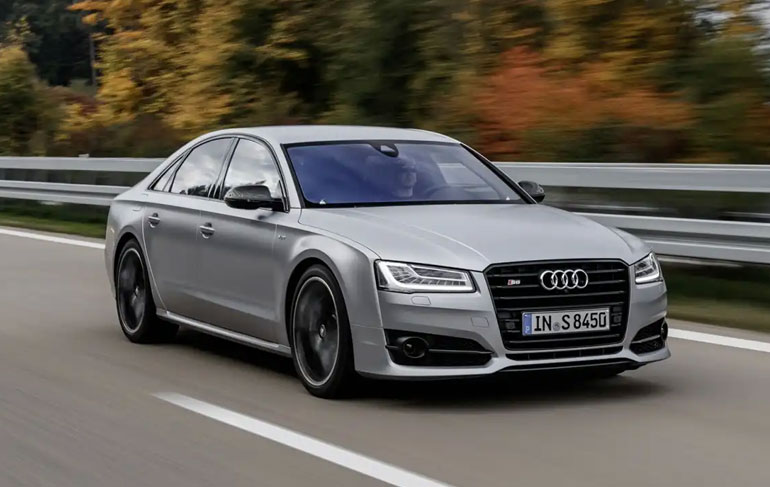 Though a bit costly yet this is the car to buy and enjoy. The S8 bestows supreme comfort, apartment-like room, optional gadgets like massaging front seats and an excellent stereo sound system. Really a dream like a journey if one can afford the price and the fuel. Audi S8 takes pride in the following specifications.
Engine
| | |
| --- | --- |
| Type | twin turbo premium unleaded V8 |
| Power | SAE Net horsepower of 605 @ 6100 rpm |
| Torque | SAE Net torque of 517 @ 1750 rpm |
| Displacement | 4.0 L/ 244 |
| Fuel system | Gasoline Direct Injection |
| Economy | 14 mpg (city) |
| | 24 mpg (hwy) |
| Safety | 4 wheel ABS system disc brakes |
With a curb weight of 4685 lb and a multi-link front and rear suspension, Audi S8 is one of the best luxury road trip cars if one can afford it.
---
10) Cadillac Escalade ESV AWD: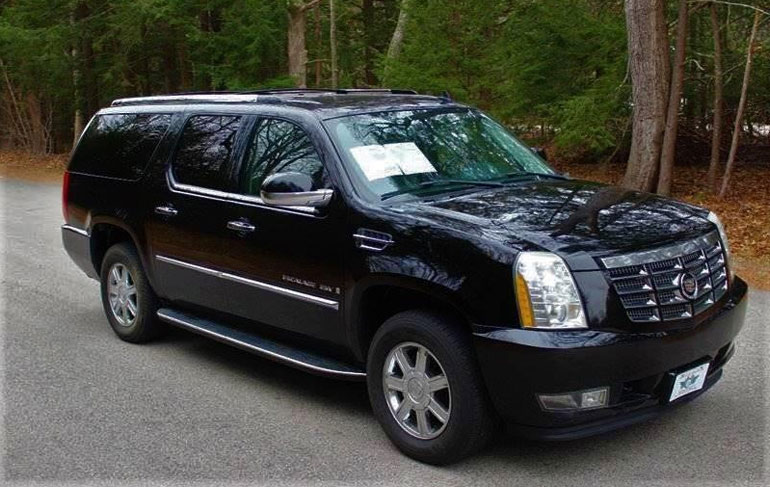 While traveling with family on a road trip, this extended edition is a perfect choice. Comfortable seats for all and a very smooth drive along with a lot of space for cargo will make you feel proud of it, and you will never feel hesitant of taking it to the finest restaurant of your choice. With a powerful engine of 6.2L 420 hp @ 5600 rpm V 8 and a torque of 460 ft-lb @ 4100 rpm, a fuel economy of 14 mpg in the city and 21 mpg on the highway, a 10-speed automatic transmission, standard seating for 7 persons, 4 wheel ABS disc brake system and a lot of other features regarding entertainment and luxury, the Cadillac Escalade ESV AWD is undoubtedly a reliable road tripper.
Aforesaid are some of the best road trip cars everybody can rely on confidently and trustfully.