Overview
The Audi Q7 is a premium class three-row SUV from the second generation of Audi's full-size SUVs. Q7 has everything that you desire in a 7-seater. It is a complete package for luxury SUV buyers, i.e. space, comfort, style, safety, and latest technology. Currently, it is also available with two engine options. You can get your Q7 with a turbocharged four-cylinder efficient engine, or you can opt for a more appealing supercharged V-6. All Q7s come with standard Audi Quattro all-wheel-drive system. Moreover, emergency braking on low speed is standard in all Q7s, but if you are looking for advanced driver assistance features, you need to choose from the top trims.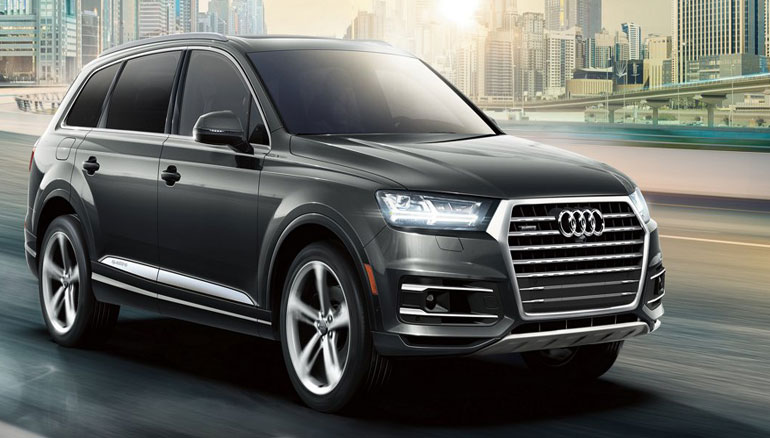 What's new in Audi Q7 2019?
This year's Q7 comes with tons of features as a standard. For instance, all models come with navigation. Whereas, mid-range and premium trims offer Audi's virtual cockpit digital gauge cluster, an exterior camera system that can view 360 degrees, LED head and taillights, along with a wireless smartphone charger. Also, the convenience package on all Q7s now offers blind-spot monitoring and rear cross-traffic alert. However, the 20-inch optional wheels now come with all-season run-flat tires and two new designs of 21-inch wheels are also available.
Engine performance of Audi Q7: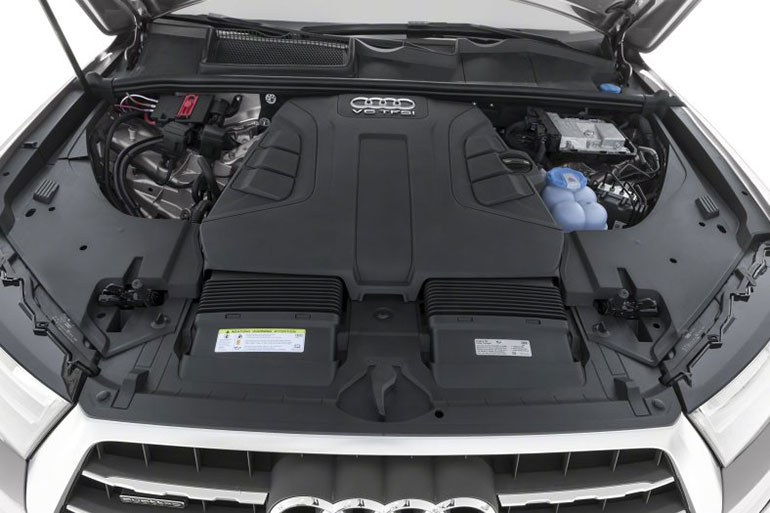 There are two engine options available in 2019's Q7 2.0L four-cylinder turbo engine or 3.0L V6 supercharged engine. All the trims available come with these two engine options along with the all-wheel-drive and eight-speed automatic transmission standard options. The V6 engine does a 0-60mph in 5.5 secs whereas 4-cylinder can do it in 7.0 seconds. Moreover, the Q7 can tow weight of 4400 lbs. with its four-cylinder and 7700 lbs. with its V6 engines. The 3.0L V6 engine produces 329 horsepower at 5500rpm with a torque of 325 ft./lb. Whereas the 2.0L 4-cylinder engine produces 248horsepower at 5000rpm with a torque of 273 ft./lbs.
Fuel Economy of Audi Q7:
The fuel economy for Q7 is suitable for this class of SUVs. It is the same for both engines, i.e. 4-cylinder and V6. The current mpg is of 19 mpg in the city whereas 25 mpg on the highway. Therefore, the average fuel economy is 21 mpg, which is not bad for such a huge car. The fuel economy for both engine types is the same, but the V6 is much more potent as it will give you more power. However, this Audi is in the list of most fuel-efficient luxury SUV's
Interior and infotainment:
Like always Audi has shown it's class the interior of Q7 is a mixture of elegance with the latest technology and yet minimalist. Audi created an excellent fusion of comfort, luxury, and quality in its Q7's cabin. Audi uses top quality refined leather for making their seats. The front and rear seats come with a standard heating system.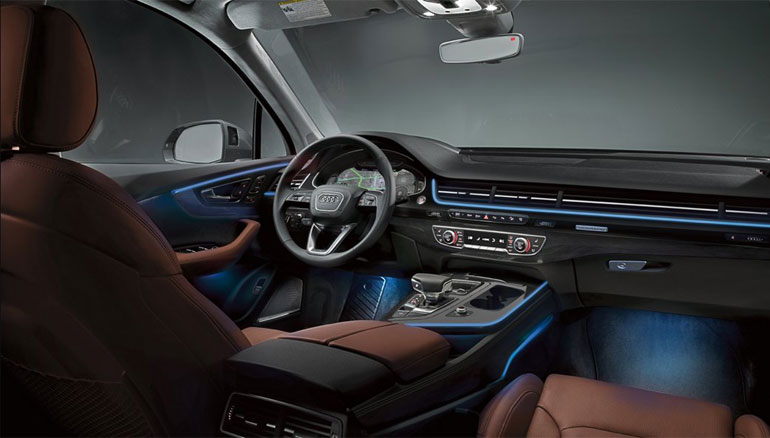 Moreover, in luxury packages, you can add the driver and front passenger seats with a function of ventilation and massage. The inlay panels are of natural wood, and the wing design of dashboard evokes a sense of space in it. Moreover, you can enjoy the natural light passing through the panoramic sunroof.
The cargo space in Q7 like all other three-row SUVs is not enough. Altogether, 14.8 cubic feet of cargo space is available the third row, 37.5 cubic feet between the second & third rows and 71.6 cubic feet behind the first row. The third-row seats come with power-folding and a hands-free power liftgate.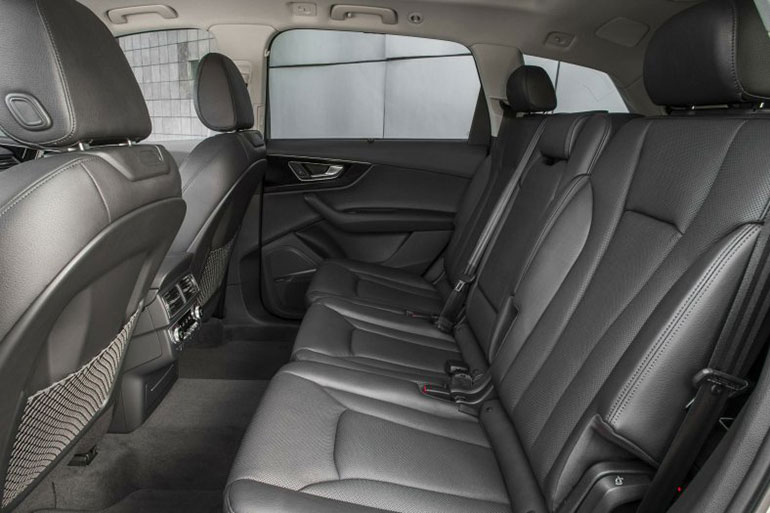 The Q7 has a standard 7.0-inch screen on the cluster and dashboard, which can increase to 8.3-inches in the higher trims. Furthermore, it includes 4G LTE connectivity with Google Maps, with several USB ports and 12V outlets, HD radio, Satellite radio, and navigation. Moreover, Android Auto and Apple CarPlay too. There are also several audio options available for the audiophiles. Q7 comes with Bang & Olufsen system, which has 23 speakers. It also has 19 speakers Bose surround-sound stereo. You can also add four-zone automatic climate control, power soft closing doors, interior LED lights, and rear-window sunshades.
Safety features:
From the given safety ratings, you can consider Audi Q7 a good, safe, and secure family car. It has an overall good safety rating as per IIHS safety ratings. As per NHTSA, Q7 has an overall 5-star rating. There are also many prominent safety features present in Q7 like Driver and passenger airbags, front and rear head airbag, front side airbag, rear side airbag, 4-wheel ABS, Disc Brakes for four wheels. Furthermore, safety features like Brake Assist, electronic stability control, daytime running lights, child safety locks, blind spot monitor, Auto-leveling headlights, cross-traffic alert, etc. makes it more suitable as a family car.
Exterior: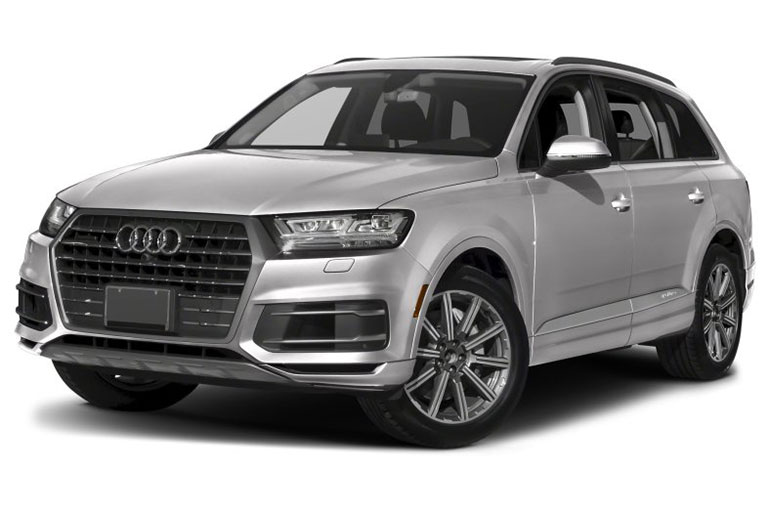 The exterior of Q7 is a sight to behold from the Single frame grille to the trapezoidal exhaust outlets, full LED headlights. Everything about the body design of Q7 creates a timeless beauty with dynamic body lines and sporty appearance. The exterior body detailing of Audi Q7 is bound to make a striking appearance on both city streets and the highways. The sturdy detailing of the wheel arches depicts the all-wheel Quattro drive system. Moreover, Q7 now comes with a power tailgate that features a hands-free opening function. Moreover, you can release or raise the tailgate by sweeping your feet under the rear bumper.
Key competitors:
Audi Q7's key competitors are BMW X5, Volvo XC90, and Acura MDX. Q7 is one of the top contenders in midsized luxury SUVs because of its spectacular performance, high-end interior, and user-friendly features.
Pros and Cons:
The Q7 comes with a luxurious interior cabin
Gives you excellent road experience regardless of road conditions
Powerful supercharged V6 engine option
Comfortable seats and updated infotainment system
You can also experience back-road athleticism
It is quite pricey if you go for higher trims
Third-row is suitable for kids
Conclusion
The Audi Q7 is an excellent option if you want to buy a midsized luxury SUV. It comes with a good 2.0L 4-cylinder base engine along with a choice of a supercharged V6. It gives decent fuel economy, i.e. an average of 21mpg and is fun to drive because of its excellent road grip. The cargo and seating space in Q7 are quite remarkable when compared with other SUVs of this range. The third-row is a bit tight for adults, but the two front rows are very spacious. Overall, Q7 is a car worth investing for because it gives you authentic luxurious experience in comparatively less cost than its rivals.