The 1967 Ford Mustang was one of the bestselling Fords ever produced and an elegant sculpture on four wheels. During the Mustang's success of models '64-66, the Ford manufactured around 1.3 million of Mustangs. Therefore, the Mustang's designers got back to their Drawing board and sketched a new Mighty Mustang without really changing the original class.
The '67 Mustang is a redesign of '64, but it is one of the most favorite and bestselling Mustangs. With its long flowing lines and a long-pronounced hood, it gives a friendly yet Aggressive look. The Mustang favored crisped lines and softly rounded form over the old blockier mustang. The '67 Mustang revolved more around performance with its 6.4 L V8 engine that can produce a power of about 335 strong horses. This model comes with both manual and auto transmission and this makes it one of the best first cars for many car's lovers.
Features:
| | |
| --- | --- |
| Engine | V8 |
| Transmission | Automatic 3-speed & manual 3-speed & 4-speed |
| Horsepower | 335 hp (250 kW; 340 PS) |
| Carburetor | 4 barrels |
| Body types | 2-door hardtop, 2-door fastback, 2-door convertible |
---
Under the hood: 1967 Ford Mustang
The '67 Mighty Mustang belonged to the first generation of Ford's pony cars. Ford used to produce this model during '66 and '68. Its design was created by Ross Humphries, which ensured the space for the massive V8 engine. Moreover, the overall size increased including interior and cargo space. '67 Mustang had four engine options, which comes under different engine codes T, C, A, K & S. Ford replaced the high performance 289 option with the newer 335 hp, (250 kW; 340 PS) 390 Cu with a 6.4 L FE engine along with a four-barrel carburetor. They were available in three transmissions: 3-speed automatic, 3-speed manual or 4-speed manual transmissions.
Exterior:
Mustang, a vigorously powerful pony car, comes with a beefed-up and aggressive face that shows what a true American Muscle looks like. The most radical change in this model was sweeping the full roof backward in fastback models inspired by Ford GT40. The most appealing difference was at the back, by installing Tri-bar concave tail lights. The detailed triple striped tail lights catch the eye on the road, and it's the signature of mustang'67, and since then no other Mustang had it. Mustang '67's hardtop also inherited had chrome quarter trim caps from its predecessors in '65&'66.
The 1967 Ford Mustang has a pure metal body, which is a way lot heavier than the new plastic-like materials that present generation of car manufacturers' use. Metal can be seen everywhere in this Mustang from doors to the interior and from knobs to handles. The overall weight was 2568-3000 pounds. The Mustang'67 indeed is a real historical American masterpiece.
Interior:
You can transform the 1967 Ford Mustang, as you want. You can customize it to anything from the exotic, luxurious car, to a bare-bones racer. The interior of mustang doesn't have a central console and has a floor shifter. The seats are soft but a bit uncomfortable. The interior of the Mustang is simple yet unique. There's only radio hanging from the dashboard and nothing else. The steering of Mustang is pencil thin and feels great in hands and has stainless steel bars by the horn and a Mustang logo on the horn which gives this legend its Grand look. The steering doesn't have an airbag in case you're going to run into something.
The safety measures back those days were not as advanced as todays. The gauges of the 1967 Ford Mustang are classy. We have a speedometer and tachometer and on the top corners temperature gauge, oil pressure gauge and gasoline. In the middle, there's the ticking clock that gives old school vibes.
The classy interior of Mighty Mustang is all metal like the heater controls beside the steering is simple, and we have the wiper controls in the middle. The smoker's window at the side reflects the classic and historical design of mustang. In addition, with carpeted floor and old school simple interior there's nothing that can be more elegant in the spacious interior of Mustang'67.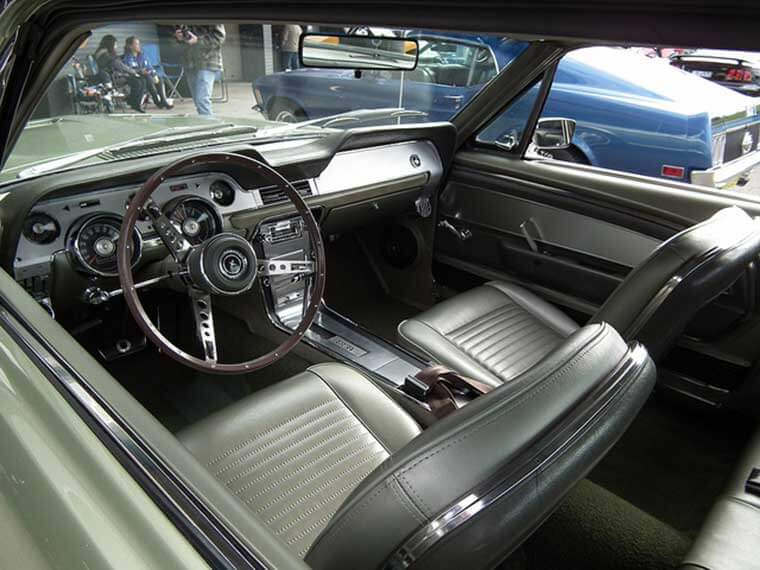 In '67's interior Ford had removed the signature; embossed running horse motif from the seat's backs. However, Ford introduced a deluxe package in which you had different color options; dash trims options like aluminum or wood grain, seat buttons, and specialized door panels. Some deluxe interior also included stainless steel trimmed seat back shells resembling those of Thunderbird.
The trunk of 1967 Ford Mustang is very spacious as you can fit in a pair of golf clubs in along with spare tire and other stuff. In Mustang'67, everything feels high quality. The '67 Mighty Mustang was undoubtedly the poster car of that era with elegance, class and that sharp looking Mustang hardtop.
Safety Features
Besides, '67 also had passive safety features like padded armrests, windshield pillars, sun visors, dash top, double laminated windshield, seat belts with reminder lights, four-way emergency flashers, improved door locks, and several others. Moreover, Ford added a dual circuit brake system that had trouble warning light; corrosion resisted brake line, safety rim wheels, and standard backup lamps with a revised steering wheel that had a faster and tighter turning circle.