The next generation subcompact concept model, Mazda HAZUMI has been unveiled at the 2014 Geneva Motor Show. This latest model is said to be the successor to the Mazda's highly rated "2" series hatchback. While revealing the concept, Mazda also showed the four key pillars of the Mazda's vehicle engineering which includes:
SKYACTIV Technology
KODO-Soul of Motion Design
Mazda Proactive Safety
Next-Generation Car Connectivity System Mazda Connect
Mazda unveiled the newly-developed 1.5 liter clean diesel engine known as SKYACTIV-D 1.5. This engine is quite similar to the SKYACTIV-D2.22 which is available in CX-Crossover but it is smaller, highly efficient and got a clean burning as well. Besides it will also have an exceptional driving performance with powerful torque and linear acceleration.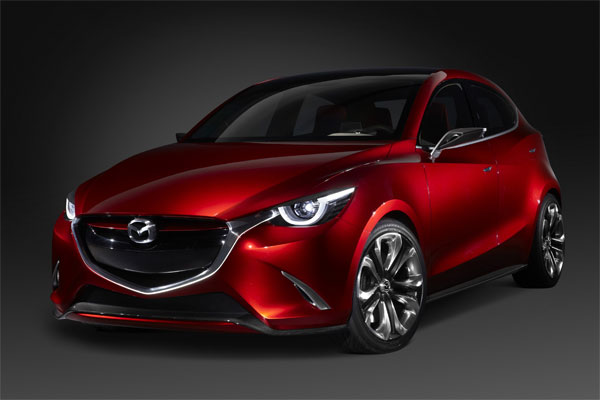 While coming to the exterior of the car, the oversized tires and stylized wheels are giving a car a more aggressive look but if the production will retain this lowered stance and show rims and the overall look of the car, it would be needless to say that it would be an impressive effort.
Mazda's Representative Director, President and CEO, Masamichi Kogai is quite hopeful and positive about this new concept unveiled and in his own words he has stated that, "Mazda HAZUMI indicates the exciting direction of Mazda's products which, with no exception, will deliver Mazda's unique driving pleasure. We hope that they will enrich people's lives, and help build a strong and lasting bond between Mazda and our customers."
The concept also highlighted the black leather base with white leather accents and the red fabric seats which will enhance the red hot exterior but it is said that the color would slightly be toned down once it will go for the production. But for any other guesses we will have to wait for the performance and the output of the vehicle – the HAZUMI concept.